MGB RO STYLE WHEELS for sale
MGB RO STYLE WHEELS; RUBERY OWEN; 14" X 5.5".; Bolt pattern 4 X 114.3. Very good mechanical condition. Previous owner attempted re-paint of silver and black areas. Would need refurbishment. All 4, $40. Contact Jim Heaton;
[email protected]
; 818-802- 2404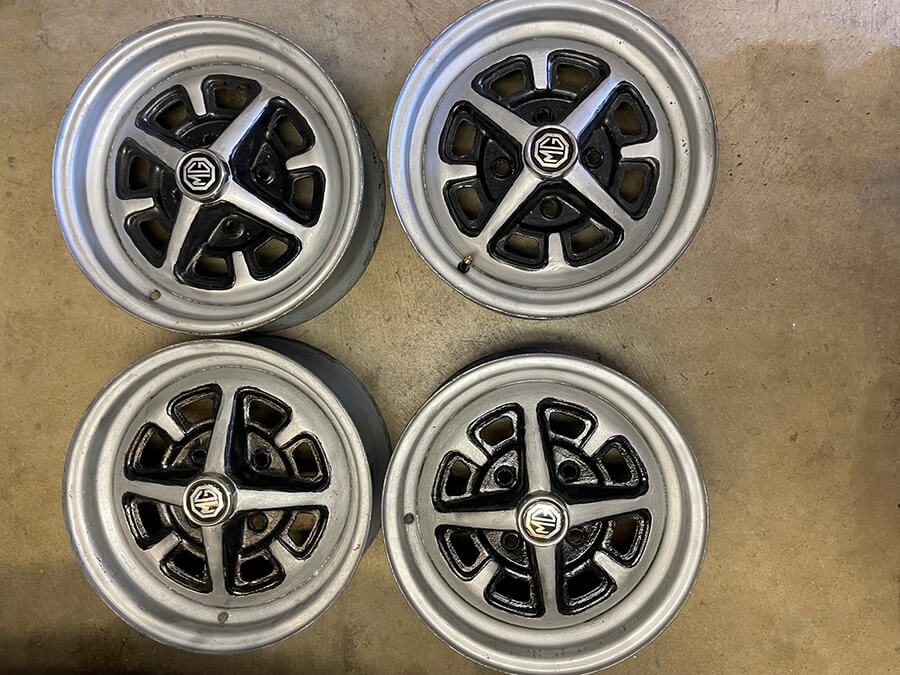 1964 TR4A project car for sale
SOLD!!! 1964 TR4A project car:
I have had this TR  since 2010. I had just finished an MGBGT (a junk yard find) and began tearing the TR  down. At that point I had a 56  TF which I have had for 57 years, a 61 MGA MK ll, a 75 MGB roadster, all garage or junk yard finds, and my mothers 55 Thunderbird -  all driveable, and restored. At that time my cancer began to spread and I have reached the point where I just cant do the work any more. Health problems make it impossible for me to complete the restoration. I have since given all away to my children and grand children, except the TF. 
The TR body is in good shape, little rust except in the floor, which I have temp fixed.  The original TR engine was without a flywheel and it was going to cost more to get a new one or buy and ship a used one than to engine swap. 
Car is equipped with a Buick 3.8 V6 engine installed, along with a spare engine, GM automatic tranny with a proper drive shaft, and power brakes, as the car was going to go to a grand daughter.  Several hundred dollars in new parts from Moss, plus the same in used parts.  I need to get from it all I have in it, which $3000.  Thanx for your help.
Classified Ads are free to CCBCC members!
Email your ad to the CCBCC webmaster.